A few weeks ago, Seer Interactive held a Speaker Series event about using automation in marketing to increase efficiency and get more work done … meaning more enjoyable work and less repetitive work! Efficiency is one of my favorite words, so my friend Mary and I were eager to attend the panel.
How to win back your time with automation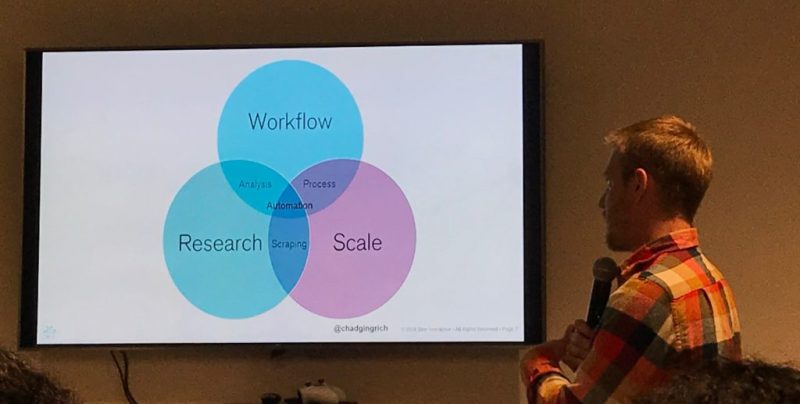 The first speaker, Chad Gingrich, covered the basics of what automation in marketing is not about (robots like the Terminator) and what it is really about: simplifying tasks to identify a repeatable process, then figuring out how to make the process happen automatically when needed. Chad clarified that automation is the process and mindset, not the tools and software (though tools are useful for implementing automation). In order to figure out what can be automated, create processes by first breaking down your job into duties, breaking down duties into tasks, and breaking down tasks into actions. Identify what parts of the process can be done automatically with technology and then scale it. A few of the tools suggested are IFTTT (If This Then That), Zapier, Text Expander, Gmail Filters, Unroll.me (an email inbox cleanup/summary), automating people through Amazon Mechanical Turk and TaskRabbit, and more.
Web scraping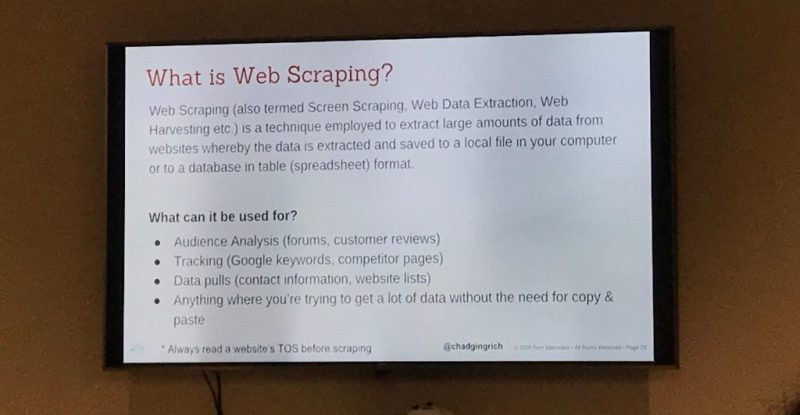 Chad also talked about web scraping, described as doing research at scale. It is "a technique employed to extract large amounts of data from websites whereby the data is extracted and saved to a local file in your computer or to a database in table (spreadsheet) format." Web scraping can be used for: audience analysis (forums, customer reviews), tracking (Google keywords, competitor pages), data pulls (contact information, website lists) … anything where you're trying to get a lot of data without the need for copy and paste. Tools for scraping include the Scrape Similar plugin, Import.io, Data-Miner.io, and Outwit.
Automating customer research
The second speaker, Phillip Moorman, spoke at length about what kinds of customer research information can be gathered with automation, including: your customers' lingo, where your customers gave up during the sales process, how your customers prefer to navigate your website/app, your customers' style and layout preferences, cumbersome website pages and forms, and more. Tools for automating customer research include Google Search Console (learning customer language), HotJar (heatmaps and recordings of customer behavior, feedback gathering), Google Optimize (testing), and more.
Analytics automation
The final speaker, Tracy McDonald, started the presentation with great advice to remember: discovery takes time — it's easy to see if something is working well or not working at all, but finding the cause of that performance is time-consuming. She continued to explain that to analyze changes in performance, we generally ask the same questions every time:
Did a specific page drive the change?

Did a group of pages drive the change?

Which traffic source drove the change?

Was it a specific geo, device, or browser type?
Tracy continued to demonstrate Google Data Studio, including a custom dashboard for attendees. An automated dashboard lets marketers see red flags and green flags at a glance, with organic search and paid Adwords, allowing for fast discovery for quick solutions.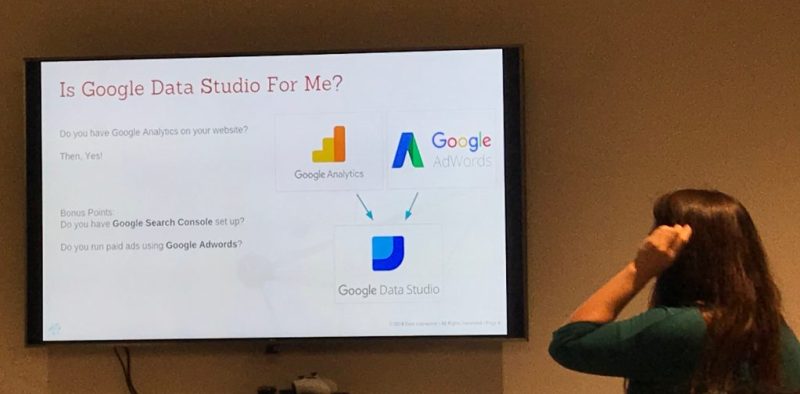 Seer's next event is Seerfest on June 18, the agency's first one-day conference that benefits Think Dignity, a charity helping the East Village homeless population.