The second part of San Diego Startup Week's Keynote this year was titled "Getting Funded with the Area's Top Women Investors," and included Victoria Lakers, President, Frank M&C; Ellen Chang, Chair, Wharton Angels; Arlan Hamilton, Managing Partner, Backstage Capital; Jenn Kercher, President & General Counsel, Section 32; Allison Long Pettine, Founder & President, SEED San Diego and Ad Astra Ventures; and Caitlin Wege, Partner, MooDoos Investments.
(Part 1 was a Fireside Chat with Arlan Hamilton & Liane Thompson.)
The panel discussed how angels, venture capitalists, and family office investors think, what you can do to increase your chances of funding, how they source deals, and what they look for in companies.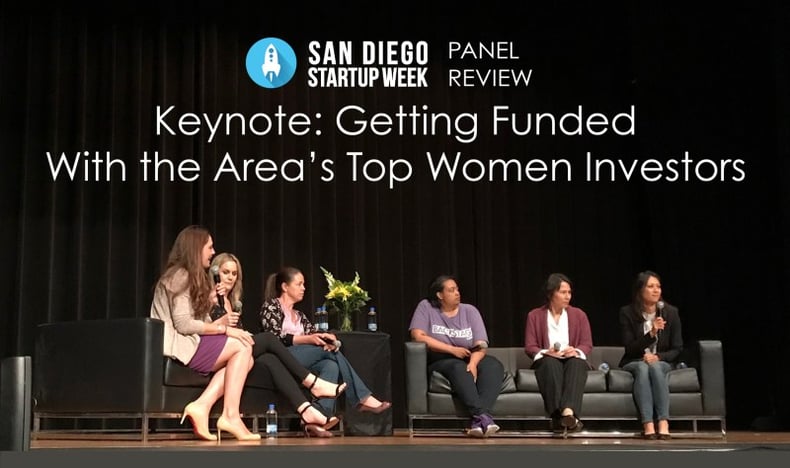 What attributes do you look for in a founder?
Jenn Kercher said she looks for founders like Arlan [Hamilton, who was on this panel and spoke at the preceding panel]. Founders who have grit, passion for what they are doing, a low ego, and are fun to work with. "Be yourself when you pitch investors. We want to understand you, your idea, and how we can help you. Don't be defensive. Take constructive criticism. Recognize when things aren't working, then get in a room and collaborate until you find a new solution. Understand failure is part of this business so don't be afraid of it."
What do startups need to know to prepare to find investors?
Caitlin Wege said one of her favorite quotes is, "Ask for money and you'll get advice, ask for advice and you'll get money."
Startups should get out there early and talk to investors, do research, and meet people before you're ready to fundraise. In the first meeting with investors, the investors want to dig into the founder and want 2-3 years of financial projections to make sure you understand scaling your business, unit economics, and due diligence. Be as prepared as you can be before you start fundraising. Attributes she suggests looking for in an investor include smart money, industry experience, fundraising experience, and/or interest to take an active role in the company.
Where should you look to find investors?
Allison Long Pettine said Ad Astra is pre-seed or seed funding, funding at the very early stages of business growth. "We ask companies: Why this? Why is this idea or approach the one that will win? Why now? Why you? If they have good answers, we can dig deeper." She has had problems with companies unrolling into whole new companies once they get a check from investors, so have your after-funding future planned out as well.
Allison said preparing to fundraise is preparing yourself, not just preparing your business, and preparing yourself for the environment you're walking into. She talked about the unconscious bias related to how women get asked question men don't, questions that are defensive. Men get questions about the future of the company. "We tell women to answer the answer you want to tell," meaning don't answer those defensive questions but reframe them into a topic you want to talk about.
How do investors source founders to invest in?
Arlan Hamilton said for her it's an evolving process. "First, I was knocking on every door, looking for as many people as I could find. Now they are coming my way, it's an overwhelming deal flow using the open application process on the website. 425 companies applied just through the site, then my team chose the top 20, and I took it down to 5 companies."
Ellen Chang said when sourcing angel investors, you can find a lot of angel members in the community and at events, and also suggests using gust.com and proseeder.com. Arlan said angel investors take the biggest risk and have the highest chance for dilution. They have to fight VCs at some point to hold their ground. Angel investors are using their own money so it is a different psychology than VCs using a fund.
Caitlin said one of the benefits of an angel group is that it can be a "one-stop shop" for a startup's funding round, for example, her angel group needs 6-7 members to be interested to invest in a company so her group could fill your round. She said family office investors are all different, and the deal flow comes from networks, accelerators, and incubators. Her family office may fund 4-5 companies a year and the angel group may fund 7-10. She also said family offices don't typically advertise themselves.
Jenn talked about having 40 LPs across both funds, and how she's investing other people's capital so she's acting as a fiduciary, meaning she needs to get a return. The management fee funds the salaries but that means she also needs to make that money back in the return, causing her to start behind. Portfolio construction balances early, medium, and late stage companies, and balances long tail and short tail companies (length to an IPO exit and returns). She said to look for downside protection on terms, because convertible notes convert at a significant discount, "which means we are putting in a lot more money for a lot less return compared to angels (the first round of investors)." Jenn and Arlan discussed how that is fair because angels take the most risk.
"Valuations are so crazy right now that it makes it hard to put money in. When doing portfolio construction, [I have to think about] how or how long before I get a return," Jenn said. She started her career in 2001 during first tech bubble and did a lot of down round financing then, that's why she's worried now.
Ellen said to find investors you fit well with. Some angel investors have reputations of being helicopters buzzing around. She said a key factor is to be forthright with both good and bad news.
Allison said when thinking about funding, you're selling, you're always pitching your company, and you need to know who you're talking to and what resonates with them. Look for someone who gets it. It should not be like pulling teeth to get an investor to understand. It takes a long time to find the people who resonate with what you're saying. "You have to pitch so many people to find the right ones. It's not pitching 10 and getting 5 yesses, it's more like pitching 300 and getting 5 yesses."
Audience Q&A
An audience member said only 15% of investors open his email and only 30% of them open his pitch deck that they requested. How can he fix that? Arlan said they have a lot of deal flow they could coast on for a while, which may be the case with many investors. So maybe go to more conferences and one on ones because lots of associates and analysts at those events have the ear of the investor, so get them so interested that they champion you. Jenn said she is afraid to open attachments because of viruses if she doesn't know the person, and advised him to do more networking if email isn't working, try to find the investor's press relation person's email, and check out accelerators.
Mondo "The Black Tech Guy" came from Minnesota to see Arlan talk this evening and asked if social impact was a kiss of death for getting investors. Jenn said social impact is taken into consideration but it's not an absolute no. She just needs some type of return, such as generating revenue, an acquisition, or an IPO.
Arlan said, "I don't think that having impact and making money are mutually exclusive and I think the industry is headed that way."
Ellen said an angel group could be helpful with social impact businesses because angels are passion-led. Caitlin said social impact is something a lot of currently big companies had to begin with, like Lyft's mission was to eliminate cars from the road.
The next audience member asked about the San Diego startup ecosystem, what stands out and what's missing? Allison said there is a lot of grit and bootstrapping but not much capital. Caitlin said a problem is it's a geographically large area but there's been a real coming together in the last 5 years so the ecosystem is no longer just isolated downtown, it's now a hub and spoke model with La Jolla and North County's developments. Jenn is still new here but wondered why the tech ecosystem was getting more support than bio and life sciences. Ellen said good things include the defense and communication industries here, the amount of software and hardware engineers, and the affordable talent compared to other areas.
Resources mentioned
Silvia Mah's She Invests Podcast
Changemaker Chat event July 10 with Nina Saberi