Linkedin Local San Diego, founded by Mary Fain Brandt and Maryrose Solis, hosted their first event at FemX Quarters in Mission Hills, San Diego.
Mary Fain Brandt is the CEO and Chief Connector at The LinkedIn Bakery. She is a LinkedIn Strategist for women entrepreneurs, a host of her own Livestreaming show, a national Speaker, and an avid fan of video marketing.
Maryrose Solis is a business development, branding, and content marketing strategist for small to mid-size businesses.
The main topic of the panel that evening was… Ignite your 2020 with Inspiring Stories from Women Business Owners!
Panelists
Introduction to FemX Quarters
The speaking portion of the event began with Mary and Maryrose introducing FemX Quarters owner, Jessie Medina. She described growing up in Argenticna and coming here to the U.S. at 15 for school. "I fell in love with this country. And anyway, as an immigrant, we've had an interesting journey here. And I had to work really hard to get to where I am. And along the way, I've heard a lot of noise. I've heard a lot of, 'you can't do that. This is unattainable for you. This is hard to get.' So I'm gonna share one thing with you today, the fact that we really can do anything. I always tell people, you really can't design the life that you want, and you have to learn to trust yourself. When I think of an office space, our space for women to come and gather, we welcome everybody here, but we are very feminine. We support women and create a space for women, especially for minorities, for women of color, for people that maybe don't have the same opportunities that everybody else does.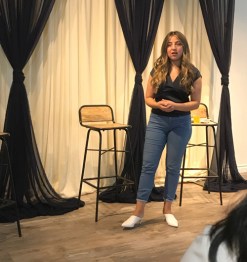 And I wanted to show people that you could do it. So I remember when I first came up with the idea it was because I was hosting our events for women, and we didn't have a venue. It was always so hard to find a venue. One day I was like, why don't I just create a space for us, and for all the women that I know that hosts events and workshops? When I shared it with some people, a lot of people were like, how are you gonna do that? You don't have the money. You don't have the connections. You don't have whatever it takes to do it. And I'm really stubborn. So I was like, let me show you. I went through a lot of community resources. It took a few months to come up with the business plan, it took a lot of faith, a lot of tears…And here we are today. I actually opened it a year later. I just hope that that story encourages you to whatever it is that you want to do. Make sure that you never give up and make sure that when you're creating your dream, when you're making that dream live, make sure that you do it from your heart, make sure that you're not doing it because somebody else is doing it. Or because people expect you to do something, make sure that whatever it is that you want to do, you do it from the heart from what you really want to do. Because there you're gonna find your purpose. Every day that I come in here every time that I see women together, and all the allies that we have. I feel so touched every single day I walk in here as I'm walking into my dream life, and anyone can do that," she said.
Then the raffle winners were announced. Alas, I was not a winner!
The hosts explained the feature of LinkedIn where you can connect with everyone in the room who has the same feature open in the Linkedin app, so we all connected.
Dr. Silvia Mah
Dr. Silvia Mah was introduced next, with a saying about juggling. Thinking of things you are juggling as crystal balls and rubber balls. The crystal balls are the thing that are most important to you that can't be dropped, such as family, for her. The rubber balls can be dropped and bounce back up again, how to squeeze it back into your life.
Silvia is originally from Venezuela and immigrated here to the United States for college. She got a PhD in molecular and marine biology and biochemistry. She was in that program for seven very long years,and also started her family during that time. She then taught engineering at UCSD. She taught students how to think critically and think about impact. Fast forward to 2010, Silvia's father passed away. "My father always thought that women could be two things: secretaries or selling themselves on the street. So in his honor with his money, I only invest in female-led businesses [and/or the founder is a person of color]," she said.
She's invested about 35 companies, with a portfolio ranging from biotech to life science to consumer products to "everything under the sun." Her efforts now are through funds primarily outside of her own personal investment, such as at Ad Astra Ventures that she started about two years ago with Alison Long Pettine. "We have bought 10 companies in our portfolio, which is really exciting. We invest $20,000 for exchange for 5% equity in their company," Silvia said.
Silvia is also a VC at Next Wave Impact Fund. "We have eight investors who are LPs, limited partners. And then we have 12 ladies on the Investment Committee, which make decisions for the funds. I'm on the Investment Committee and we've invested in 15 companies in the last two and a half years, and they're globally based. They have to be venture bound, and they have to have an impact piece of it," she said.
She has launched a couple of accelerators such as Stella Labs at Ad Astra Ventures adn was recently employed at CONNECT for nine months. She just transitioned right now to USD as the Director of the Center for Peace and Commerce, doing a lot of social innovation with undergrads.
"I've been at UCSD from 15 years helping undergrads commercialize their technologies. I've done a bunch of other things, too. But that's primarily why I'm here. I love LinkedIn. That's why I'm here," she said.
She introduced the evening's panelists: Flossie Hall, Sheryl Marie, De'Anna Nunez, and Sarah Lopez (bios above).
Questions
What is your definition of success, or your biggest success in 2019?
Flossie: Finding actual work-life balance. As a mom of 4, running multiple businesses, what does that look like. By the end of last year I held myself to that standard, only working Monday through Friday, clocking out and spending family time at night and weekends. Going to the gym, taking care of myself, it took a long time. At the end of 2019 I could successfully say I was starting to take care of myself and not just my business.
Sheryl: 2019 was the year my business exploded with rapid growth. Both in financials and who I became. My biggest success was growing.
De'Anna: I didn't run one marathon in 2019 and I feel successful, got it out of my system. I travel a lot being a speaker, away from my family. I scaled back and focused on family, took my kids to school, it was great. I think that was a success. You don't have to sacrifice your health for success.
Sarah: 2019's biggest success was growth personally, business-wise, and spiritually. I had to grow in those 3 areas. Being an entrepreneur I saw in 2019 I was able to concrete what my core values were and grow a model where I could take care of my family. I have 5 children and my husband and I have a plumbing business as well. Create a model that works for your lifestyle and included your core values such as family. I took the time to prune and let some things go. Be authentic to what's important to you and you'll see growth.
If you had asked a male panel they'd say, my successes are this and this, so much revenue, etc. So I applaud you guys for saying these more upper-level strategy successes. Let's move it more operational. To be successful you have to market yourself. What are marketing success stories you've had, maybe something that's really worked, on LinkedIn?
Flossie: Mary told me 6 years ago to get on Linkedin, she taught me how to use it, now I'm never not on LinkedIn and I use it for everything, biz dev, booking speaking engagements, etc. I want to share a success that happened yesterday. Over Christmas break I read a Forbes article featuring a guy who was the head of the American Center for Entrepreneurship. I connected with him on Linkedin right then, sent him a message saying what I do. He wrote me back. I had a meeting with him yesterday. He invited me to come speak in front of the Senate on behalf of the issues [I advocate for]. What other platform can you reach any person at that level and say, 'This is who I am. This is what I'm going. Would you like to join me?' Thank you, Mary. It's a powerful thing. Don't be afraid to try and put yourself out there.
Sheryl: One thing I struggled with was marketing, there was only so much 1-1 selling I could do. In the past few years, I partnered with production companies and event companies who are selling my services. So partnering with people to help sell your service, you don't have to sell 1-1, that's my biggest marketing strategy.
De'Anna: I just watched the documentary about Steve Jobs where he looked up in the Yellow Pages a person he wanted to talk to at Hewet Packard. He was 12 years old. He called the CEO up and asked for some parts. They gave him a job on the assembly line. I think of Linkedin as the same way. You can literally look somebody up and reach out. I've been doing a lot of reaching out. My strategy has been to then get offline and have way more conversations and connections. Even reaching out to people I may have been scared to reach out to, I was intimidated. But then they start introducing me to other people, it's grassroots.
Sarah: The relationships platform like Linkedin have created have been great. You can't be everywhere and meeting people all the time. Connectedness LinkedIn allows to follow others professionally, collaborate, and partner, it's a great time-saving tool.
Silvia says she thinks of LinkedIn as the bookends, where she meets people at events, have conversations, post selfies together, etc. One of her friends always takes selfies with people and post them and now everyone wants a selfie with her, she's an investor. You have to own what you do on LinkedIn. The other bookend is to share ideas, share what you love about whatever you're doing. The thought leadership you can create on Linkedin is like no other platform. Linkedin lets you control the thought leadership.
De'Anna can you talk about your thought leadership about Vital Mindset. What led you to work on being the thought leader in hypnosis?
De'Anna: I became a certified hypnotherapist in 1997 because I felt like a mess. Growing up I had childhood adversity, traumatic things in the back of my mind. I felt like an imposter, I felt deep emotional pull to not being where I wanted to be. I have a deep curiosity about what does it look like to design your mind, explore your subconscious, and redesign things. That's what hy[notherapy did for me. After I discovered hypnotherapy I wanted to know how to take it to another level, to bring it to more people. It feels so elusive, like, do you know where your subconscious mind is? Some people are afraid and don't want to open that can of worms. Becoming a hypnotherapist, my message is really for you to decide what you want to keep and what needs to go. Vital Mind is about creating a space of vitality in your mind that you take everywhere you go so you are showing up as your best self. Not just a cliche or quote on Instagram. It's so you can do that exploration and put that best foot forward. I love what I do.
Talking about people, one thing Sheryl shared with us is that she grew and scaled because of the team she built. Can you go into that piece of your business, leading a group of people, staffing, outsourcing, etc?
Sheryl: Growing Picture Bakery I used a lot of community resources, one of them is the Women's Business Center. Another is Stella Labs, an accelerator that really helped to scale my business. Prior to that, I had never really dedicated the time or the energy to work ON my business, I felt like I was a rat running in circles. Stella Labs mad my business explode, that was huge in building a team and surrounding myself with community resources. More than anything else, with building a team, I realized I couldn't do it on my own. Going around to other photo companies, we maxed out on booths, so I outsource my events to other photo booth companies who do a great job carrying the spirit of Picture Bakery. Now we have events with Google, Qualcomm, after humble beginnings. I'd speak to catering managers every day after work and just kept going. After Stella Labs, I thought of how to network with other photo companies.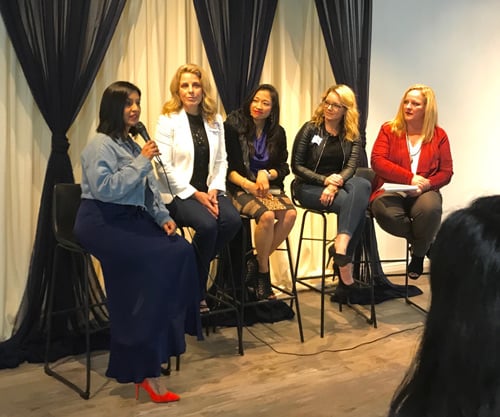 Sarah, this is very dear to my heart. Can you share with us about your faith-based business and how important that is. For me 2019 I took on publicly saying that I am of faith… so I love this part of you.
Sarah: In 2015, I started the business out of my desire to lead a healthier lifestyle, creating a business model that worked for me and my family. I felt like all of that was started by a vision that the Lord gave me. I wanted to lean into that. I didn't know then what he was showing me now. If I had known, I would have run the other direction. I believe that is we start with a simple obedience to our true calling and purpose then we'll start to see doors open. We can really impact and influence others around us and make a difference. We have a commissary kitchen and 22 startups rent our space. With that, I've made incredible relationships and conversations. When we try to do life on our own we become extremely overwhelmed and it sis easy to give up on the dream that we may have if we're doing it by ourselves. I feel like that is a platform God's given me to share a message of hope and I'm grateful for that. I call it Ministry in the Marketplace.
Flossie, can you talk about the importance of resources and community?
Flossie: I cater to the military spouse community, which has one of the highest unemployment rates in the country, 30% actively seeking work. It's due to nomadic lifestyles, employment gaps, children, moving, a lack of networks where we live, and more. It's really hard. You don't know where to start. There are resources but we're struggling to unpack houses, find kids a school, and more. There is an answer: entrepreneurship. That is a way to take charge of our lives. I'm advocating to say don't wait. Start your own thing, demand what your worth, do it while the kids are in school, take it to Japan with you, take it to Kansas with you. And then build a team, build an agency, dominate the world, so it on your own terms. We're a very special community. So we're building a place where they have these resources but they also have a community of fellow military spouses to lean on who said I did it, you can do it, too.
We saw a lot of values, on LinkedIn, how do you communicate that on a platform that is more professional. I say certain words like grateful, thankful, honored. How do you show your value system online?
Flossie: Gratitude. #militaryspouse #entrepreneur #femalefounder
Sheryl: Joy, we bring joy to events.
De'Anna: #vitality and #subconciousmind. Vitality is absolutely a value
Sarah: Community and #mompreneurs is really where my heart is
Mary: The thing I value most is time, I can't make more time, so I appreciate your time. #community, #entrepreneur, #womeninbusiness. Honored, grateful, excited. I am who I am online, offline. I am excited, I am grateful, I want everyone to come take a picture with me. Figure out who you are and what you value and own that.