Lawyers Club of San Diego, a specialty bar association that considers and addresses common problems of women in the community with the overall objective of eliminating discrimination based on sex, held a public event at intellectual property law firm Knobbe Martens on International Women's Day.
Introduction from the Lawyers Club of San Diego President
Danna Cotman, Lawyers Club President 2018-2019, introduced the event wearing purple, the theme color for International Women's Day. The official name of the event was "International Women's Day: Businesswomen on the Rise" presented by LC North County Committee co-chaired by Kimberly Miller and Bridget Burns. They announce that the Lawyers Club theme of the year is "Demand equality."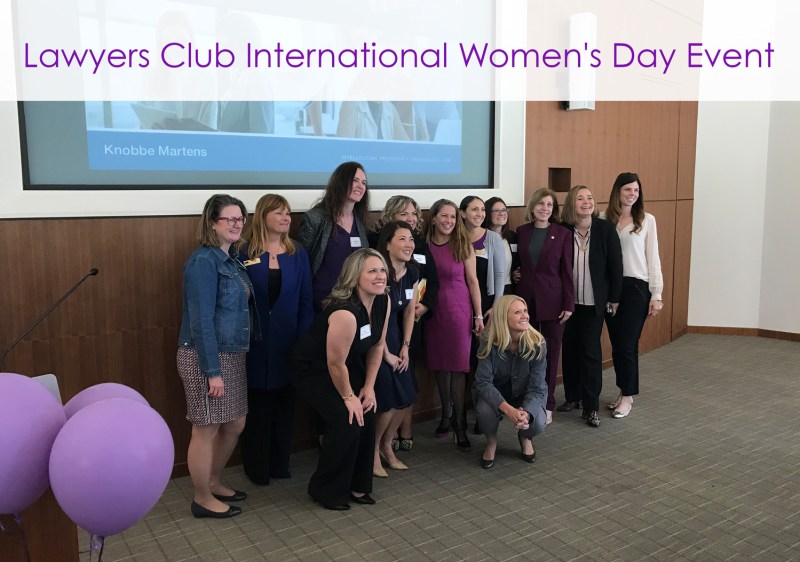 Gender Equity Legislation and Lessons from City Council President Pro Tem Barbara Bry
City Council President Pro Tem Barbara Bry spoke next, also wearing purple, and gave a proclamation to Lawyers Club from the City of San Diego. Among her many accomplishments, Barbara said she founded Athena (a women's empowerment organization that fast tracks women in STEM through leadership development) based on Lawyers Club.
Barbara said, "A lot of my life has been about empowering other women, which goes back to my mother, who was a single working mom … She made me believe I could succeed in the business world and because of her, I spend a large part of my life empowering other women."
Ten years ago, Barbara started Run Women Run to elect San Diego women. At that time, women were a minority of elected officials. "Little did I know that 8 years later I would run for office successfully. And now to be a part of a historic city council, which for the first time is a majority of women, and it's not just that five of the nine of us are women. It's that we are very strong, diverse women who are very committed to our communities," she said.
Barbara also spoke of her experiences with sexual harassment throughout her career, including her early days at newspapers, getting late night phone calls from senior male employees asking her to come over. "I dealt with it as best I could. I never told anyone. I never told my girlfriends. I never told the administration. It wasn't until the #MeToo movement nationally unfolded and I started thinking about what could we do here in San Diego. I called together the current leadership of Athena, Run Women Run, and Lawyers Club, to discuss what we could do in San Diego. And the result was the Workplace Equity Initiative, which is now called the Workplace and Disability Initiative," she said. Lawyers Club is becoming a lead in moving the initiative forward.
To eliminate sexual harassment, Barbara said, "What we really needed to do was build a movement. We facilitated workshops where we had a microcosm of the San Diego economy. And it was very powerful in helping us draft a code of conduct for both employers and employees, which will be released in the upcoming months by Lawyers Club. What is really essential going forward is that we're going to hold each other accountable. That's going to be more powerful than half passing another law."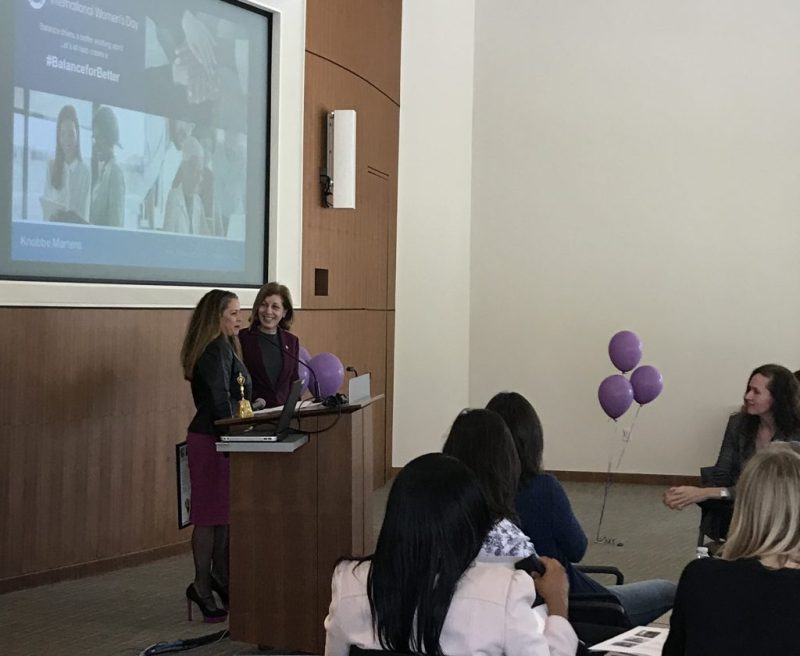 Lawyers Club Co-Chairs Introducing the Keynote
Lawyers Club co-chairs Kimberly Miller and Bridget Burns spoke about how California became the first state in the nation to require that all public companies incorporated with headquarters in California have at least one female director on their board by 2019, and depending on the size of the board/company, at least three women by the end of 2021.
Nationally, the number of females CEOs on the Fortune 500 dropped 25%, from 32 to only 24 in 2018, and women held only 21.2% of all board seats on the S&P 500 companies in the United States. According to one study in California, most public companies are already in compliance with the 2018 requirement.
However, only 21% of the companies are currently in compliance with the increased requirement for 2021. In particular, some of the notable companies that are not yet in compliance or would not be compliant for 2021 are Facebook, Apple, and Alphabet. One company they gave a shoutout to is Twitter for having four women out of 11 board members.
"We are tired, and you're tired, of being nice. We're tired of being polite. We are going to require this because it's going to benefit the economy, it's going to benefit each of these companies, it's time that we burst the man cave," they said. Studies show that it could take up to 50 years for gender equality in the corporate world. "Many people feel like quotas are not the way to achieve balance, because it's more important to change mindsets to get women on the board. And we shouldn't ignore that kind of argument. Even supporters of this bill said that it's vulnerable to equal protection challenges. Regardless of how successful implementation is of this particular law, a growing body of research suggests that diversity on boards is good, both for women and for a company's financial success. One of the theories suggests that having women on boards increases employee retention because junior women in the companies are shown that there is a path forward. Multiple reports and studies have found that companies with more diverse boards, in particular with more women, have higher financial returns than those with less diverse boards. Harvard Business Review found that diverse teams make for smarter and more creative decision making. Other studies have found that when there are fewer women on boards, there are more-than-average governance-related controversies, more volatility, and less investment in research and development."
The Lawyers Club co-chairs said that to discuss these issues, following the keynote they'll introduce table facilitators and have time for each table to have small group discussions. We'd hear about the path these women in business have taken, the trials and the successes, and discuss the ways in which this legislation can help achieve our goals of equality and balance.
Keynote Speaker Alessandra Lezama, CEO of AbacusNext
Keynote speaker Alessandra Lezama, CEO of AbacusNext, the largest technology and service provider for the professional services sector, led transformational changes as CEO of three previous companies. Since 2013, she has propelled AbacusNext from a $5 million legal case management software offering to a fully-integrated technology suite, "taking advantage of the company's 30-plus years of experience and evolving its product into a mature, robust portfolio."
Alessandra began by saying she was humbled by all the women in the room. "Coming up in the hallway, I felt like that's actually what makes the world go around, your support. We make the world go around."
Alessandra shared that it took her until the third grade to learn her name (which is several long, complex names) and described how her teachers would ask her to stand up in front of everyone and how she was ridiculed in the classroom. Continuing on the theme of names and heritage, she asked: "How many people that you know can say their father was actually a professional bull fighter? Go on, take the bull by the horns … ever since I can remember, every night we had a sermon … where my father started out with every sermon saying 'you take the bull by the horns,' so that's engraved in my DNA." She described those nightly sermons as ironic since the vision her father had of his three daughters' future was very different than his vision of his two sons' futures, but his empowerment and taking control message was the same to all the children As a bullfighter, Alessandra said her father was the epitome of a macho man, so some of his ideas about what girls should do were ideas she questioned, but she loved his 'take the bull by the horns' philosophy.
"I love the fact that he was always about – if you're going to do it, you're going to do it 100% well or you're not going to do it. Don't ever do it 8%."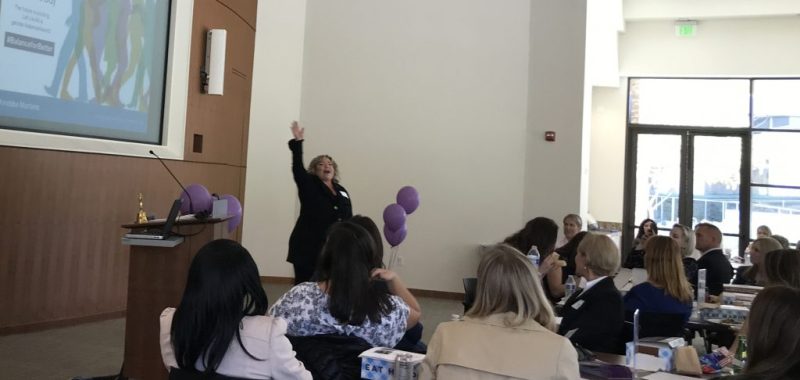 Complicating her childhood more than a difficult name, her father's career meant her family spent a lot of time traveling abroad, changing schools often. "You really don't know anyone. You don't have anywhere. And I was placed in a situation where I had to be my own best friend. And that was really the beginning of what I would leverage for the rest of my life."
"You have to understand when I grew up, it was all about shaping women to be beautiful, to be everything that men wanted, that's what it was about," she said. She explained a feeling of "one of these things is not like the other" taught on Sesame Street, about herself compared to children in the U.S., compared to children in South America, wherever she moved she said she never felt like she fit in.
"I didn't even speak the same language. I speak the same language here so what it forces you to do is recognize that if I'm not going to be anything like anyone else then I started to be me … it was survival. That's what you do when you're a little kid. You don't know how to survive. So guess what? You have to become a superstar. I believe in superheroes. I believe that everybody in the room here is a superhero. I believe that everybody in the world has a superhero. I just believe that a whole lot of us know how to find that superhero."
Alessandra came to the U.S. to go to school after being an international marketing major in Madrid. She earned a B.A. with an emphasis on technology finance and was the first to volunteer to take a test to work in telecom because she spoke English, Italian, and Spanish. The important thing to note was that she volunteered, she asked for the test and job, "Nobody ever came to tap on my shoulder." She describes her first job offer and was terrified, through "I thought to myself, you know, the worst thing that could happen is I fail and I can be fired, so what … I took the job and for the very first six months I ran around like crazy to be the first one in the office, and the last one to leave. I wanted to show my boss that I was the best hire he had ever done. Months came and went, then he called me in for my first performance review. He sat me down, and I thought I was a genius. I thought he was going to give me a raise. And I sat there and he said, 'You know, I think I made a mistake hiring you.'"
She said, "'What are you talking about? I'm the first one here, and last one out. I'm running around everyday and I'm doing what you said.' He said that was exactly the problem, that he doesn't need more hamsters in a hamster wheel. He hired her because she was not like the others, she had raised her hand to volunteer when one one else did. So he expected her to do what no one else did, without fear of failure. "That's the problem with productivity, with genius and leadership today. So many people, they get lost in the hamster wheel and you can imagine a hamster in a wheel running really, really fast, spending a lot of energy not going anywhere. That's exactly what he was trying to tell me."
She asked how she could change this and he said it starts out with the pursuit of personal purpose. "The pursuit of personal purpose needs to be your North Star. It needs to be what makes up your blueprint of your life. It's a partnership between personal, professional, financial, and writing goals. But your north star has to be the pursuit of personal purpose, too."
Alessandra said that we are raised, and we raise children, to give before we take for ourselves. "Well, I'm of the belief that we need to take before we give." She compared this to being in a plane and putting on your oxygen mask before helping others with their masks, because in order to help people in distress, you need to come from a place of strength. "I got it, I understood it. I tapped that into my DNA. And what that really meant was that I had to start with me, and with being genuine, and understanding who I am. We all have strengths and we all have weaknesses. We are all perfect for who we are, but it is instilled in us from a very early age that we need to look like others look, succeed like others succeed, and the reality is that we can all be extremely successful and all be extremely different in the path to that success."
Put your goals on paper, "GTSOP – Get That Shit on Paper," she continued, because you need to visualize them and have a vision for accomplishing those goals. "You really have to dream it. You know, it's not a cliche, I can tell you. I have been down in my life at least five times, even after I got married, because my father sold me on the idea that I had to be married, that it was the right thing to do to have a beautiful baby. My marriage turned out to be a disaster because it wasn't in my heart. I did have the most amazing son ever, who I will cherish forever. I've lived through civil wars and I'm just coming from the world of executive America as an immigrant woman in a predominantly male industry. The only reason I got through that was telling the truth. It shall set you free. I was truthful, I was genuine, and I shared with everyone my journey and where I was going."
Alessandra gave her top 10 tips to enact change in your life:
Jump out of that hamster wheel life.
Dream big.
GTSOP
Surround yourself with people that buy into your vision. People do business with people they hang out with. People you don't like, don't hang out with.
Make an effort to understand people.
Don't be afraid of failure. Fear is paralyzing.
Don't fear the past, leverage into the future. She spoke of the movies Groundhog Day and Dumbo as examples. "We have the virtue of waking up every single morning and doing better than what we did yesterday."
Put one foot in front of the other. "Everybody gets to the destination on a different path."
Don't measure yourself against others, measure yourself against you. "I love track and field because you always measure yourself against your best personal record."
If you don't ask, you won't succeed.
The number one question Alessandra is asked is what it feels like to be a female CEO. "Well, I wish I had a great story for you, but I really don't because I have no clue. I don't know, I've only been a CEO, I've never been a man."
She encourages everyone to pay it forward. "Life is like a barrel of monkeys. That means I didn't get to where I am today by myself. It's okay to ask for help, and at the very same time you pay it forward, especially to young women."
Q&A with Alessandra
Have you had any special mentors in your life? And have you noticed any differences between male or female mentors?
"Absolutely. I don't think that I could be [a mentor] without mentors. So I mentioned Jerry Allen, one of my greatest mentors. My father was one of my great mentors. Some mentors are people that I've never met, that I read all about. Amelia Earhart is one of my heroes. And so I do as much as I can, and I encourage you to participate in any way that you can, even if it's not in an institution or formal program, to involve yourself in someone else's life who's coming up the road. I learn from my mentees every single day. I'm part of the LEAD program at the San Diego Regional Chamber of Commerce. I'm a big proponent of women in STEM. Where I love to participate is in the grade school level, at the high school level, because they're just so tender. They need so much love and they need so much structure to build a blueprint for their lives. Today's social media scene and all the resources that are out there put pressure on young women."
Have you made any business decisions along the way that you would change looking back?
"Absolutely. I made a ton. If you don't make mistakes, you don't learn or propel yourself forward. I think that in my career, I've learned that I would have gotten a lot closer to my dream a lot sooner in my life had I raised my hand more, had I not been afraid to step up in all the places that I felt people looking down on me, one place which was being a woman. So it was important for me to reach a point where I threw out the idea that I was a woman competing for a man's job. I had to be the best professional for the job."
You mentioned that you don't know what it's like to be a male, but did you experience differences in male leadership versus female leadership?
Alessandra talked about the differences in men's and women's perspectives in terms of "blocking the sun with one finger." If your finger is close to your eye, you can block the sun with it, from that perspective … but that doesn't mean the sun is smaller than your finger in actuality. Men and women bring different perspectives to the picture, they don't have to manage in the same way, they don't have to come to the same conclusions, they could have a difference of opinion, but still get the job done, she said. "There are different levels of energy, different levels of passion, different angles and perspectives that I think certainly enrich the workforce, so I'm always looking for more women to bring into our organization that has grown from 29 employees to 500 in less than three years. I'm sad to say that we don't have more women so I'm always out there looking for more talent because diversity enriches and maximizes the ultimate outcome. I think we all have a lot of work to do and I think that's a great note to end on. Thank you so much!"
Table Discussions
After Alessandra's impactful speech, the event broke out into conversations at each table with different founder and CEO facilitators, including Felena Hanson of Hera Hub, Sara Clark of Fab Fempreneurs, Jamie Quient of Free to Thrive, Andrea (Andy) Kamage of Janssen Pharmaceutical (Johnson & Johnson), Susie Japs talent management and hiring expert, Sylvia Becker-Hill of Becker-Hill Women's Empowerment School, Stephanie Barnier of Clear Sky Wealth, Danna Cotman of ARC IP Law, PC, Renie Leakakos Esq. of Leakakos Law, APC, and Amanda D. Singer, Esq., MDR, CDFA of San Diego Family Mediation Center & California Family Mediation Center (OC).
I was at the table facilitated by Sara Clark-Williams, founder of Fab Fempreneurs, a business which inspires and equips female entrepreneurs to have a business (and life!) they love. We had about 25 minutes to talk about the questions on the tables.
Sara has been an entrepreneur for 11 years and left a high-paying corporate job in organizational development in 2008. She loved that job but quickly found herself starting to feel like her impact wasn't as big as she really wanted it to be, like she was being forced into a little square. That feeling was taking its toll every day, and she knew she had to do something about it. "I started having conversations with a lot of different people, doing assessments and really looking at who am I, what's my personality, what are my strengths, and really narrowing things down. I have a master's in industrial organizational psychology, so I knew that I wanted to leverage everything in my life and career to that point. I just didn't know what it would look like. I decided that I wanted to support people outside of the corporate environment, and specifically work with women to initially support them in having the life and career that they wanted. Then a few years into that, I started my second business, which is focused specifically on supporting women service providers to have a sweet spot, really being able to grow their business that they're so passionate about and actually make money doing it, feel fulfilled, and have a lot of fun as well."
Do you think the new law requiring women on corporate boards will affect women's career trajectory? Do you think this law will have its intended effect?
The women at the table thought the law helps bring awareness to the issue but don't know if that's going to have an impact on those companies. Perhaps more women will step up and go out of their way to try and bring other women up with them. Having a woman who's able to voice their opinion is wonderful, but it's only going to help if she's passionately pushing to bring people on boards, one woman said. Other women thought the effectiveness would depend on what the punishment is and if the punishment is actually enforced. Another women went to a 2020 Women on Boards event recently where there were a lot of conversations about penalties — it's a large fee for larger companies, though perhaps some companies would say, "Screw it, we're paying the fee," and write it off as a cost of doing business since that is easier than changing their mindset and their hiring practices. Some women thought the fact that the men even have to have a conversation, or make a conscious choice, is a step forward. The pressure to obey the law, the public perception if they break it, will depends on the industry. "I think blaming and shaming can go a long way and certainly takes a few years, but some industries are more insulated," one woman said. There is a concern about if we want to really focus on quotas or on mindset.
What is it really going to take to get equality across the board, on boards?
The law in and of itself is not enough, the table agreed. Mentorship will be part of it, mentoring other women. Having men in the conversation is important. Organizations have all-women meetings but there sometimes isn't any real development there because the men are not involved, and with men included they could make up a majority of the company and get decisions approved. Also, we discussed how men and women mentor slightly differently and when it comes to relationship building, how some guys get together regularly on the golf course or play football. Even entrepreneurs outside of the corporate world have to build relationships to keep their business alive and growing. Continuing to support other women could help women's willingness to be the first at their companies on boards and in director-level positions, setting examples for other woman to follow more easily. One woman noted that there needs to be more leadership training on both sides. "People have just been thrown out there, 'Now you're a manager, go!'" when they haven't had any training in managing people.
One woman at the table went to a women's conference last year and they talked about finding mentors, specifically women mentors, but how it's also good to have male mentors. Also it requires cultural change, so that way other people at the company can see that it's not just an old boys' club. The conference suggested something that you can do outside of work is having those conversations with your brothers, nephews, or anyone in your family about gender equality issues they might not normally think about. They may not know that you've personally experienced sexual discrimination or harassment. They should know what it is like, how it is real, and how it starts with them.
Another woman at the table's personal experience is that some female mentors or professors were harder on other females. And she's also had female professors that were amazing and help lift women up. "I think sometimes some women have had to work their ass off to get where they are and they kind of had this feeling of 'I went through the trenches to get here,'" which makes them not want to help make things easier for other women on the same path. Someone said one of their best mentors is a 50-something white male, but he's very open to helping her move along, his feedback is constructive, and it's valuable that she can rely on that experience.
One woman said all throughout college and grad school she volunteered to be the leader of the teams, and realized she's stopped doing that, and today's speaker reminded her that if you don't raise your hand and are just waiting to get chosen, that's not going to work anymore. You have to pick yourself. "That was huge. That was really a shift from the 'aha' moment, to stop waiting to be chosen and to step up. One of the things that I see is when there is that support in the organization that you're in, and despite efforts and choosing yourself and taking initiative, I have watched the opt-out movement where women are opting out of corporate life because of that struggle to advance. I don't think that's the right choice that every person wants to make. Not everybody wants to have their own business. A lot of people want to be part of a larger organization. So instead of opting-out and starting a business being the only choice, how can you stay in corporate and thrive? I think that's really what it comes down to, is how do we thrive and get our voices heard … I think that's the bigger picture. We care about doing a good job and the mission of the organization. It's not about just saying, 'Okay, cool. We got a woman on the board now. Now we're good.' It's a bigger vision."
Have you encountered bias throughout your career, is there an instance that you're comfortable sharing where you've encountered bias, how did you come at it, and is there anything that you wish you had done differently?
One woman said that when there are three women vying for what appears to be one "spot for a woman" at the top, instead of supporting each other they end up trying to cut each other down, and sometimes it is not intentional. Another woman said there were only a few women in high levels at her company and they were sort of divided and isolated, all doing their own campaigns, all doing great things, but never collaboratively. "So it'd be great to have those three women all be on the board together as a team." One of the key things in that story is collaboration versus competition in the workplace, we should really support each other. And at the same time, if an organization really is only 'checking the box,' on equality, just to have the one woman on the board, that's going to create that competitive culture. If more organizations are aware of the benefit of having a more balanced and diverse board, they can recognize the benefits and the value as opposed to checking a corporation box. Women talked about how it really has to start at the top, so we are not competing for one spot on a board.
Another woman talked about how when you're the one woman at the table, feeling like you are representing all women, you may not feel like you should rock the boat.
Also, we discussed the need to talk more openly about salaries, just to break the ice. One woman said she's really fortunate, her work group is mostly female and there was a male in the group that left and she took this position. Before he left, he was really transparent about how much money he made, what he negotiated, specifically knowing that she wanted his job. Her group even had an intern who ended up being converted to a full-time employee. She had never negotiated a salary before, so they told her what she should realistically be paid, and if she was offered less she should come back and ask the group for advice. Just opening up that conversation about money is helpful.