Ellevate San Diego's Women in Leadership: The Story Behind the Woman "fireside" chat was a sold-out event at the Women's Museum in Liberty Station. The event was organized to hear the stories of San Diego women who are leaders in their industry. What qualities do they believe makes them good leaders? What advice can they give women who are looking to lead?
The speakers included Betsy Brennan, President & CEO of the Downtown San Diego Partnership, Racquel Vasquez, Mayor of Lemon Grove, and Felena Hanson, Founder of Hera Hub and author of Flight Club. Vanessa Hardy, Assistant Vice President of Leadership and Organizational Consulting at LPL Financial and Ellevate San Diego chapter leadership, moderated the panel.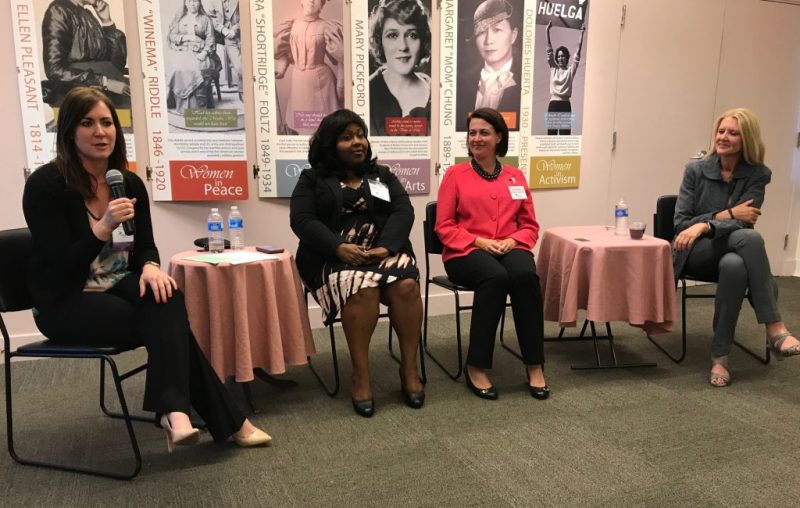 Activism and Leadership – How it began
Racquel started the discussion about how her road to leadership started. Growing up, her grandmother always urged her to vote and had a memorable piece of advice: "Take a look around your community. If you don't like what you see, do something." Racquel's sense of community led her to volunteer, then to become the first diverse person elected to her city council, all the way up to her current role as mayor of Lemon Grove (San Diego County's first female African-American mayor).
Betsy remembered her mom telling her to "Be Kind. Be Bold. Take Risks." She stressed the importance of finding mentors and sponsors to teach you and advocate for your career. Betsy's leadership career includes overseeing diversity at Cal Poly, working on Capitol Hill and on the Olympic committee, and her current role as president and CEO of Downtown San Diego Partnership, where 60 of the 84 board members are men.
Felena is the child of entrepreneurs and started her first business at 8 years old, selling peacock feathers. The peacock feathers are a branding theme you can see today at her latest venture, Hera Hub co-working space by women for women (though men are welcome). She remembered her journey toward business leadership as being "the girl with four business cards" at 30 years old, re-embracing the entrepreneur life after several tech startup jobs.
Risk and Success
Felena spoke about an HP study where men applied for a job when they only met 30-40% of the qualifications listed, while women applied for a job only when they met 80-90% of the qualifications. The study came to the conclusion that men may be less afraid of career risks with more of an "I can figure this out" attitude. Felena said this inspired her new mantra of "Say yes and Google it." What's holding many women back from taking risks and leading? A lack of confidence, she said, as well as lacking a supportive environment, something she strives to provide with Hera Hub.
Vanessa works in HR and further explained something that can be helpful for many job applicants to know. The qualifications listed in a job description are for the perfect candidate … who doesn't exist in real life. No one is going to match 100% of the qualifications listed. Don't let that hold you back from applying for jobs.
Racquel said, "your level of passion [for the job] determines your level of success," and "when women support each other, we lead." She urged women to "say yes right away when asked to lead, and the universe will line up people behind you to ensure you succeed. Apply for the job. They have to choose somebody – why not let it be you?"
Betsy described how the hiring team for her current President/CEO job didn't think she had "enough gravitas" to lead since she wasn't yelling and pounding her fists on the table like certain male applicants. Her success strategy included "celebrating how you do your job" and watching a power poses TED Talk to prepare for meetings.
Another great piece of advice to keep in mind for meetings or negotiations: "He (or she) who asks the questions, controls the conversation. It's like a waltz."
Dealing with sexism
"It's in your face, every single day," Racquel said. She called herself a "right fighter in heels," which she described as putting on blinders and staying the course to fight for what you believe is right. Remember the people behind you who support you. "If you get tired of walking in those heels, they'll pick you up and carry you," she said.
Betsy said a way to overcome sexism is to "stop tearing other women down. Support other women. I am surprised every single time it happens and want to be done with that. Let's be strong together."
Felena said that 34% of the workforce is knowledge-based, meaning independent contractor/ freelancer/ entrepreneur and the lack of "climbing the ladder" in entrepreneurism creates a level playing field for what she calls "leaning out" of the corporate world. "Create your own table, create your own boardroom, create your own reality. We can do that. We don't have to play by others' rules," she said.
Vanessa ended the panel with a simple, powerful message to remember. "Support women in your workplace. Support women entrepreneurs. Support women-owned businesses. Vote for women."
On that note, don't miss upcoming Ellevate San Diego events, including next week's Equal Pay workshop at Hera Hub.
Not in San Diego? Ellevate has many online resources, including a live stream of the Ellevate Mobilizing the Power of Women Summit on June 21.