Ellevate Network San Diego's latest event was Sandy Asch's keynote presentation, Be Bold: How Women Influence Change. Sandy is the Principal of Alliance for Organizational Excellence LLC, a best-selling author of "Roar: How to Build a Resilient Organization the World Famous San Diego Zoo Way," and the expert who taught the San Diego Zoo to "Roar with Passion and Purpose." Sandy has taught her strategies to 30,000 leaders at more than 350 companies in 50 countries, including global brands such as Pepsi, Universal Studios, Qualcomm, and more. The event was held at the Embassy Suites in UTC, San Diego on August 30 and was sponsored by LPL Financial.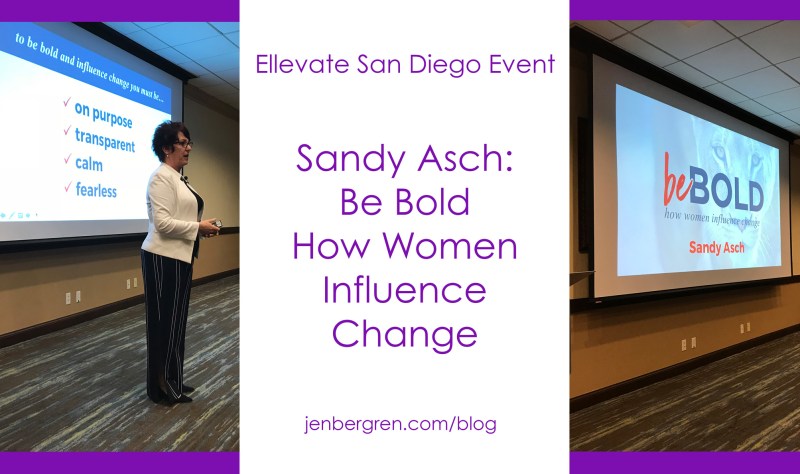 Sandy started her presentation with a quote from the Dalai Lama, "The world will be saved by the Western woman." She spoke about growing up in South Africa and going on an annual safari with her family. On these safaris, she witnessed a lioness climb up a tree and then crawl out onto the skinny branches to gain the best vantage point to both safely relax and watch for prey. This was an early lesson on how to be fearless, and a theme of this presentation. "Stepping out onto the skinny branches," is a boldness that is the opposite of many women's tendency to stay on the safe course in life and business as we age, which is like staying securely close to the thick branches of a tree, holding back and hiding our strengths. The lioness is the embodiment of resilience, which Sandy said is the key to success. Resilient women mentioned later in the talk included Malala (who was shot in the head by the Taliban for speaking up about girl's education rights, survived, and now speaks even louder about her dreams to become prime minister), Serena Williams (who was ranked #1 in tennis, took a maternity leave, found herself ranked #451 when she returned, then fought to keep rankings in place after maternity leave for all players), Mary Barra (the first women CEO of GM) and more. Sandy herself is a lesson in resilience. She grew up in a war-torn country, raised a child on her own, worked her way out of bankruptcy, and more.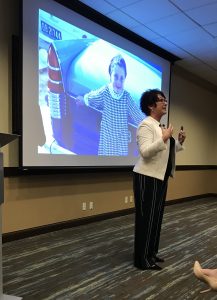 Sandy spoke about her consulting work with the San Diego Zoo to align all the employees to the zoo's powerful mission of ending animal extinction. She taught all employees to "Go for the roar" in every customer experience. Roaring about ending animal extinction gets employees excited because they know how they fit into the company and its purpose. Rallying people around your purpose, and "velcro"-ing to your purpose, leads to business results. That was the zoo's best year ever, with a record number of guests, the best customer satisfaction and employee engagement scores, and the zoo won several "best place to work" awards. The changes were supported by the zoo's bold women leaders.
Sandy disputed a common belief that the business world requires women to be more like men in order to be successful. Rather, she says, women should own our leadership abilities, authenticity, compassion, empathy, and more to "become a powerful catalyst for change." Playing it safe means getting left behind in your career, and withholding ideas and opinions can be a huge challenge for women in the workplace. Instead of playing it safe, be bold! "Women spend too much time thinking and calculating the risks of speaking up and too little time thinking of the rewards of speaking up," Sandy said.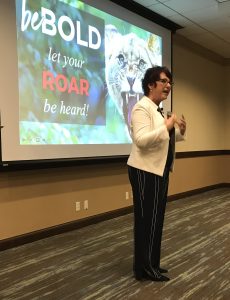 To be bold and influence change, Sandy says you must master these four skill sets:
Velcro to your purpose (or organization's purpose) – when you are disengaged from your purpose, you are unfulfilled, and you're just showing up. But if you keep so close to your purpose that you are "velcro"-d to it, you stay energized and unstoppable. Finding purpose requires looking at your unique gifts and talents, and seeing how you can use them to add value. "Your to-do list is not your purpose," Sandy explained.
Be radically transparent – telling the hard truth is, well, hard. Sandy's example was showing Sheryl Sandberg apologizing for Facebook's Cambridge Analytica breach of trust, owning up to her mistake and saying Facebook should have verified that what Cambridge Analytica told them was true. Radical transparency creates trust, which is a performance and retention multiplier. "Silence can kill your ability to lead. The truth always wins," Sandy said. Give honest opinions, ask for feedback, speak up, and cultivate loyal relationships by "refusing to trade your authority for approval."
Respond, don't react – when you're stressed out, it's easy to be impatient and react inappropriately, which leads to negative consequences. Training your brain to calm down and deal with stress without outbursts is essential, such as using exercise or meditation. Learn what triggers your frustration and how to stay calm under pressure. You don't want people to tiptoe around you, afraid of an outburst.
Embrace fears and failures – don't let your first failure stop you. Fear is one of the biggest challenges women face at work, such as a fear of feeling inadequate and overcompensating by being overly assertive or over apologizing. It's important to manage the "thieves of time, energy and confidence," which includes the voice in your head saying you don't have the authority to influence change. Failure and facing fears can lead to important lessons that help you succeed in the long run.
Thank you, Sandy! Check out Ellevate San Diego's event calendar to sign up for future events, including this month's theme on mentorship!