I really enjoyed my time in New York this year for Ellevate's Mobilize Women Summit. Read about my time at the chapter leader retreat and VIP reception the day before.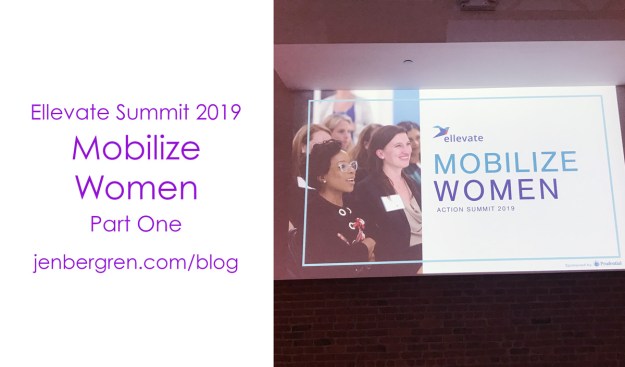 Ellevate's third annual Mobilize Women Summit was an all-day event at the Metropolitan West conference center in New York City's far west side. The conference discussed topics of diversity and equality, "in a room full of experienced, ambitious, and generous women and allies who are looking to change the world," Ellevate CEO Kristy Wallace said in the agenda's welcome statement.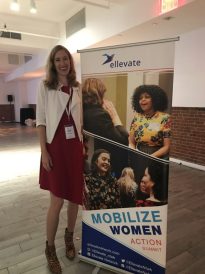 The event started with breakfast networking with the other attendees on the group floor, along with checking out the vendor booths alongside the room including M.M LaFleur clothing, Bobbi Brown makeup, Divine Chocolate, and various financial sponsors. I enjoyed meeting another West Coast member from one of the sponsoring companies, ellementary, which advances gender equity in nonprofits, sitting with my Twin Cities leader friends from the day before who happened to leave our hotel at the same time and took a Lyft ride to the event with me early that rainy morning.
Moving up to the upper level of the conference center for the main event, we found our seats on the left side of the stage, and I made some new friends including one looking to start an Ellevate chapter in Buffalo.
Ellevate CEO Kristy Wallace welcomed us to the event and gave us a taste of what was in store for us in making the topics we learn about that day actionable. "It's all of us doing it together, not just putting the words out there but putting it into action," she said.

The Power of Empathy
The first panel was, "The Power of Empathy," featuring Ajay Banga, CEO, Mastercard; Andrea Jung, President & CEO, Grameen America; and Kristy Wallace, CEO, Ellevate Network.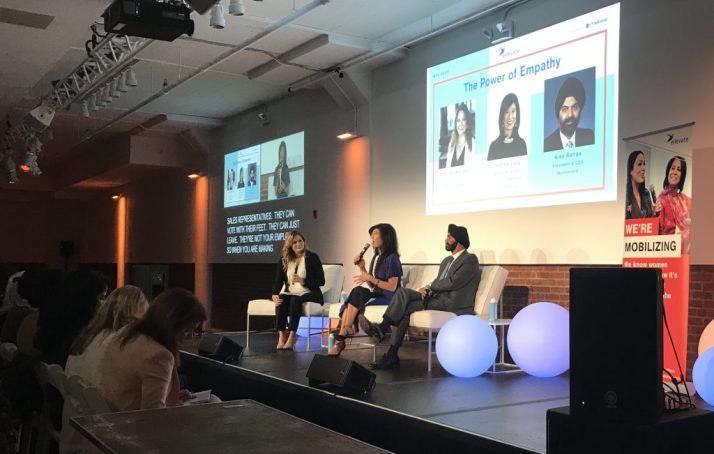 Quotes and takeaways:
"If you want to lead a life that's fun with other people, without stress, be empathetic to everyone," Ajay said.

"If you try to learn empathy when you become a leader, it's too late… Realizing it and doing it well are two different things," Ajay said.

Andrea explained how 6 million customers of Grameen let their loans lapse, and Grameen brought them in and asked questions, including about the bad and ugly not just about what was good about their service, because empathy starts with listening. Grameen America is a microlending firm with $1.2B of loan capital to low-income women entrepreneurs around the world. This process is similar to what happened when she worked at Avon, when every quarter a group of people would come in and be a council to the CEO to hear what was going on out there, an independent group who were not employees.

"Show you deeply care, and you can't fabricate that," Andrea said.

"You will always find that people will allow you to learn from them and they will then feel less different (to you)."

"Thread the needle to find the difference between empathy and being overly sympathetic. If you're in a leadership role, you have to make tough decisions. Empathy can never make you go wrong."

Ajay spoke about how people mix up kind and nice and fair. Fairness is what they want. Transparency and fairness in communication. He also spoke about using a metric called the Decency Quotient, DQ, empathy is a subset of it.
Tackling The World's Biggest Problems
The second panel was, "Tackling The World's Biggest Problems," featuring Cara Chacon, Vice President, Social and Environmental Responsibility, Patagonia; Esha Chhabra, Journalist; Jay Coen Gilbert, Co-Founder, B-Lab; Melissa D. Ho, Senior Vice President, Fresh Water and Food, WWF.
Unfortunately, I had a work emergency to deal with as well as a lack of WiFi and my data plan running out all at the same time during this panel, so I was unable to take notes while I sorted all that out. Thankfully it only took one panel!
Disability is Opportunity for Innovation
This panel featured Haben Girma, Disability Rights Lawyer, Author, and Speaker, who is deaf and blind. So how does she get audience feedback at an event such as this? She has a translator typing on a keyboard that transmits to a braille keyboard she is using on stage, so she can feel the words of what is happening.
She spoke about how her mom was a refugee in Sudan from Eritrea. Here name, Haben, means Pride in the Eritrea language. She wants us all to take pride in our differences, they give us strength. "It's not geography that creates justice, it's people that create justice, communities create justice," she said. "As the daughter of refugees, a black woman, a disabled person … those stories don't matter to me. I define what disability means to me. It is an opportunity to come up with a new solution," she said.
Don't see disability as charity. People with disabilities are one of the largest minority groups in the world, 1.3B people. It's a huge market so it's smart business to create inclusive products for them. If companies design with access in mind, they serve a larger market, and it makes the product better. Think of it like not building a skyscraper and then afterward deciding to add an elevator, she said. One of the fathers of the internet is partially deaf, and email was a way to communicate for deaf people compared to the phone.
As a child, she was taken out of PE class because people assumed she wouldn't be able to participate. She then went to a summer camp for the blind and instructors showed her the movements through touch. "My disability doesn't prevent me from dancing. Communities prevent me from dancing." A D.C. dance club turned her away because of her service dog was not allowed, her service dog, currently sleeping on stage, "is very well behaved," she said.
"We need to remove these barriers together. The default is no access," she said.
When she wanted to learn how to surf, many instructors/schools turned her away. She found one and started tandem surfing with the instructor on the board with her, "helping me steer around other surfers and sharks." The mention of sharks got a laugh from the audience. Then Haben and her instructor surfed side by side on separate boards. Then by herself.
"Inclusion is possible, you just have to be creative and thoughtful," she said. Her surf instructors learned more about surfing when teaching in a different way and engaging from a tactile perspective.
In 2010 Harvard Law School said they'd never had a deaf/blind person attend before. She said, "Well, I've never been to Harvard Law School before, so we could find solutions together." After graduating law school she became a disability rights advocate.
Closing the Confidence Gap
Caroline Feeney, CEO of Individual Solutions, Prudential Financial, Inc. spoke on this panel about confidence. Confidence continues to be a stumbling block for women in the workplace.
One bad habit is discrediting or disqualifying ideas before they come out of your mouth. Caroline realized she did this when she was younger, such as saying," I was just thinking…" or, "This is probably a bad idea, but…"
Another part of the confidence gap is many women won't put themselves up for a role unless they meet 100% of the qualifications, whereas many men just assume they'll learn on the job any of the qualifications they don't have.
There are financial challenges women face, even though women play an important role in the economy with $3.2T in assets. Women will inherit wealth and will transfer to the next generation of women in 20 years, $11.2T in infrastructure assets.
The four categories where women struggle the most:
Time gap: 28 hours per week of unpaid household work, 65% greater amount of time than men spend.

Wage gap: (white) women earn 81 cents for every dollar paid to a man

Longevity gap: Women live 5-6 years longer than men, which means more healthcare costs and a longer retirement. The average retirement is 25 years for women. By 85 years old, women outnumber men 2 to 1 but save 75% less than men for retirement. Less than 50% of women are confident they'll have enough money to retire.

Investment gap: Women are investing less than men, women keep 70% of their assets in cash.
Because of all these gaps that need to be filled, Caroline said that if you find yourself in a position where you can provide for others. you need to do it. Give back, mentor, and more, to help close these gaps.
"I learned early on that I wasn't one of the guys, I didn't need to be one of the guys, my best bet was to be myself," she said. "I was fortunate to have men who mentored and sponsored me. From them, I learned the importance of paying it forward."
Innovating the Future
This panel was moderated by Meridith Maskara, CEO, Girl Scouts of Greater New York and featured teenage STEM superstars Ashley Voisin, Entrepreneur, engineer, designer; and Taylor Richardson, Astronaut StarBright; advocate, speaker, philanthropist. The GIRL in Girl Scouts stands for go-getter, innovator, risk-taker, and leader.
Ashley is 16 years old and founded a business with her sister called Robots are Fun when she was 9 years old. Meridith said she felt underdressed in her Girls Scout uniform because she did not light up like Ashley's dress, which featured LED lights built into it. Ashley and her sister visit schools and teach classes about basic circuitry, creating wearable tech like her dress, which gets the girls in the classroom excited. It closes the gap between tech as not just crazy robots or no robots.
Taylor is an advocate for girls of color in STEM. She read a book about the first female African American astronaut, and thought if she can do it, I can, too. She runs a book drive where she gives take-home books about STEM like a lending library. "Through representation, I let girls know they can do whatever they want if they put their mind to it," she said. She coordinates movie screenings for girls with inspirational STEM-related movies like A Wrinkle in Time. She wants to inspire girls to make a change in the world. Taylor went to Africa and distributed books and put on a Wrinkle in Time screening.
Meridith said STEM identity can be created as early as second grade. Taylor said she was 9, looking up at the stars and moon, and realized her interest in science. Ashley said she didn't know what she had got herself into, inspiring girls and being a role model.
All women on the panel are passionate about giving resources to communities that are underserved. Gen Z is known as the social justice warrior generation, Meridith said. This generation has the ability to change the world in 8 seconds through the device they were born into (internet, smartphones, social media, etc.). Ashley's team went to Nova Scotia indigenous community to help create tech clothes for a school play, incorporating tech into traditional native cultural clothing.
Meredith's final question asked about what the older generation should be focusing on so their generation's entry into the workforce will be more successful. Taylor said mentor and coach us, be inclusive and accept us, help us because we need those resources and support.
Changing the Culture of Business
This panel featured Kiersten Barnet, Global Head of Gender-Equality Index, Bloomberg; Susan Lee, Chief People Officer, SeatGeek; Rachel Sklar, Co-Founder, Change the Ratio, The Li.st – moderator; and Tony Prophet, Chief Equality Officer, Salesforce.
How are diversity and inclusion prioritized at Salesforce?
Tony said Salesforce is about 20 years old and from the beginning, it has worked on a purpose to make the world a better place. As the company grew, they needed someone whose sole purpose was being in charge of the diversity of its workforce, building an inclusive workforce and focusing on the equality of the workforce and community. This decision to create this role was also focused on talent acquisition, because getting the best talent and fostering them to do their best work means looking outside the traditional pipeline.
Susan, who is responsible for creating a culture of inclusion?
"We're still having elementary conversations about it after 20 years. It's everyone's responsibility. We've tried the top-down approach and bottom-up, and found it needs to be a combination," Susan said. She said her company has had clients who became more diverse and started demanding diversity of their vendors, seeking people with a different perspective, because the world is changing. Facebook now has 51 options to identify gender, she said, as an example of the changing world. "It has to be everyone's responsibility because no single person at any level of the company can have all the answers to all the questions," she said.
Kiersten said transparency has become the new indicator of whether a company is taking D&I seriously. Companies have been holding their cards (on D&I) close to their chest until they achieve parity, instead of being transparent and saying that the best we can do is measure and disclose our diversity/parity and then create a public plan to solve the problem.
Kiersten's engineering team actually has a reverse pipeline problem, there are more women at the top than below, so other departments could learn from it.
Tony talked about the importance of data and measuring in terms of transparency. Salesforce publicized their numbers and efforts to achieve equality in pay and more, but they don't think they are done, they are only making progress.
At Salesforce, every leader with more than 50 people under them is given a scorecard every 30 days of how many women work for them, how many were hired, how many left, and how many were promoted. Execs are given an additional scorecard of how many women execs were hired, how many stay, etc. There is no latency if the data is looked at every 30 days, Tony said.
Susan said sometimes we forget to measure intersectionality — women of color, women with low incomes, women without college degrees — as opposed to merely measuring women.
Tony said Sallie Krawcheck is a personal hero of his, an icon in the finance industry in terms of the pipeline, that can be used as an example. The time for excuses is over.
Tony also said that some people identify as people of faith, that is another type of diversity, so Salesforce made an ERG for people of faith. At Ramadan, the group explained the significance of the holiday and built empathy for coworkers.
Kiersten said no one was taking secondary leave (paternal or partner parent leave) at her company because the senior managers weren't taking it, so the employees thought it was a trick. The company started making sure the senior leaders took the leave and set an example to the rest of the company, making the practice visible and socializing it. "If you are seeing that you have policies people aren't taking advantage of, that is an indicator there is something wrong in your culture and you need to address it," she said.
Susan said she realizes the people on the panel are now in a place of privilege, but no matter what role you have you need to listen. Susan Fowler, formerly of Uber, was given as an example because her company didn't create an environment to support her, so she went to the press to find someone who would listen to her. "Employees will find a way to get support whether you provide it or not, and that support may be from the press," she said.
Susan said Warby Parker genderized the shopping experience with sections for male and female frames and used to train their website and employees to ask people if they were male or female when shopping for frames, a practice they stopped when employees mentioned they were uncomfortable making people identify as only one of those two genders. "If HR says, 'My employees are talking,' that is wrong, you're not listening," she said.
If you say you don't see color then you erase everyone's identity, so do not use that phrase.
Create an environment where everyone has an opportunity to develop, succeed, be promoted, and become a leader.
Kiersten said she hears that "I can't report on pay equity because it opens me up to lawsuits." That is not true and shows you have work to do, pay equity is an ongoing process as you hire more people. Create a safe space by being publicly transparent and then admit you have work to do.
Susan said local governments are leading the charge in pay parity such as creating laws that say HR can't ask about past salary. "When the government does shit — keeping it real [big laughs in the audience] — it means it's really problematic."
"Don't hold precious the old processes such as resumes. Who cares where you went to school for entry-level positions. Degrees should not be required for everything, a lot of people don't have access to earning degrees," Susan said. Tony agreed and said we need to be hiring for capabilities, not by pedigree.
Intersectional Identities
This panel was moderated by Rachel Cargle, Writer and Lecturer, and featured Halima Aden, Model and UNICEF Ambassador.
Kimberly Crenshaw defined intersectionality as the theory of how overlapping or intersecting social identities, particularly minority identities, relate to systems and structures of oppression, domination, or discrimination.
Halima noted for being the first woman to wear a hijab in the Miss Minnesota USA pageant. For the swimsuit competition, she wore a burkini, and was the first person to do that, which created buzz and is how her modeling agency discovered her. She said it was sad that a swimsuit can make that much noise and news. For the pageant, she said we all have the choice to make the most out of every opportunity, her mom was happy about the scholarship opportunities the pageant created. She also wanted to do the pageant for people who wouldn't think she was the average girl from Minnesota, breaking stereotypes and adding representation if you never had the opportunity to see someone who looks like you in magazines, movies, or on the news. She didn't see that representation growing up so she became the representation. "I am now representation for so many girls all over, girls from small towns who don't look like everyone else," she said.
Halima explained that she loves Minnesota even though not many people there look like her (black, Muslim, wearing the hijab headscarf). People would drive her family around in the Minnesota winter. "Technically, hitchhiking is the legal word for it, but my mama called it friends," she said. "We might look different, but we're still equal, and as long as everyone has that same view, we're good," she said.
She was the first person in Sports Illustrated wearing a hijab. She chose to do Sports Illustrated because in some countries it is illegal to wear a burkini. Throughout her talk, she mentioned choosing to do certain things similar to Sports Illustrated and the pageant, in order to be the first and set an example since she never saw people who look like her doing these things growing up. She wants to make it more normal and make it easier for others to follow in her footsteps.
She said she became a UNICEF ambassador because she remembers what it was like to be a child in that world, the parts of the world UNICEF helps. She said intersectionality has helped her navigate her career in some ways, such as her "crazy African mama" who tells Halima's manager to give Halima a real job. Her mom doesn't consider modeling a real job but instilled in her a saying that, "You are not a victim, you can be a victor." Halima said it forces her to see the greater good in people despite what one person did to her, when bullied for looking different.
When asked if she identifies as a feminist, she responded, "Absolutely. The simplest definition of feminism is to uplift, empower, and champion women. We all came from a woman. I'm doing everything I can to use my voice to make sure all women have the same access. I think we should all be feminists."
She wishes that a mentor would have existed, someone in the modeling industry wearing a hijab. Halima felt she had to navigate and learn so she could be that person, that mentor, to the girls who come after her. "Being the first means nothing if there is no second, third, and so on," she said.
When modeling, she requests a private space to dress in order to adhere to her beliefs, which is not the norm in modeling where previously models were expected to change clothes out in the open on a shoot.
"If you don't see yourself in any given space, you have to push yourself to be that person, pull up a seat to the table, don't wait for the invitation," she said.
She sits down with her team (modeling agent, manager, etc.) to make sure they understood her values such as having another woman travel with her (extra expenses for shoots and appearances), private dressing area, setting boundaries to protect herself and they know that not every job is for her. She works with companies who want to show Muslim women.
It's about the combination of knowing your values and being willing to walk away. She still had a housekeeping job in Minnesota when she was on the cover of Vogue, because she didn't want to be so desperate for a career that she'd compromise her values. "Not all money is good money," she said.
When asked about the backlash she experiences to people uncomfortable with her looking different than the stereotype of models or pageant winners, she said her mom told her to get comfortable with being uncomfortable. Step out of your comfort zone, that helps navigate your career, and doors will open. You can't wait, in business, do the things you want to do, and don't have regrets, she said.
POWER of Happiness
Stacey Flowers, Speaker, Entrepreneur, Eternal Optimist, was at a point in her life where she had some business success and decided she wanted to start living her best life. She finally felt like she was where she wanted to be in life, since her sons were getting older, so she bought a three-story, four-bedroom townhouse in downtown Omaha where she spent a year of decorating and dinner parties, living her best life.
Then her sister called and asked to move in for a while.
Then her mom had a crisis and asked to move in.
She always said, "Sure, move into my best life."
Stacey was at a business conference in the Bahamas when her mom called her and said her other sister was going through a crisis, could she and her four girls move in for a little while? "Sure," Stacey said.
A few months later, her other sister called…and she and her 3 girls moved in.
At Thanksgiving, her dad normally stayed with one of her sisters, but since her sisters were all living with her, her dad moved into Stacey's basement, even though her dad and mom hadn't shared a house in a long time.
So now her entire immediate family: mom, dad, 4 sisters, 7 nieces, and her own children, all moved in within 9 months.
This was not her best, stress-free life she imagined.
This was some overwhelming stress, dealing with so many people in crisis, family relationships, no space of her own.
She didn't realize she was leaking the power she had to run her business successfully. She was leaking the power to take care of herself and her sons, because she was trying to help and control all the family circumstances and crises.
"You can continue to leak, or you can surrender. In trying to control, we give up access to happiness. We think if we can control a little more we will finally be happy – this is wrong," she said.
Stacey's 5 steps of power
P = people. You are the average of the 5 people you associate with most. A lot of times we don't know who to associate with. Choose a cheerleader, a coach who makes you uncomfortable, mentor, friends, and peers. Nurture these bonds and relationships.

O = obstacles. Face your obstacles. Obstacles are the opportunity to do something different than before. You are the arena, like Brene Brown says.

W = Why. Get clear on why you are doing what you do. Nietsche said to understand why then we can understand who and what. In 2018, she was in the hospital for nervous exhaustion, depression, anxiety after her family moved in and 2 companies failed. Her life challenge was getting out of bed. She started to heal after hospitalization. She set an intention to restore her financial dignity and went to work part-time in a cafe, even after managing a 6 figure company. "I know why I'm doing this. I need time to heal emotionally and mentally before trying entrepreneurship again," she said. Then to restore her financial dignity, she went online and told everyone how much debt she had, to give her accountability to pay it off. She was firm in her decisions because she knew her WHY.

E= expectations. Instagram says expectations are the beginning of disappointment. This is wrong. Expectations are for you, not for other people. When she was a waitress at a steakhouse, vegetarians and vegans were always disappointed in her, because of their expectation mismatch (Why are they going to a steakhouse? What expectation did they have for the food their that would meet their needs?) Set expectations and step into an environment that will help them succeed.

R=Results. Focusing on your daily results instead of focusing on giant goals. For example, for her TED talk, she wanted that Brene Brown experience of a million shares and Oprah calling. That's what she kept thinking about, but what she wasn't doing was PRACTICING her talk. Focus on daily results and release the outcomes.
Power is available to you at all times and in all ways. When her son was 6 years old he wanted a dog, she didn't, so they went to get a fish. "He's an only child so we got the fanciest, white two-story house, fishbowl for the beta fish instead of the little bowl," she said. He liked to tell her all about the fish every day. One day he called and said something amazing was happening, the fish was swimming upside down. Uh oh. His dad went and got another fish to sneak into the bowl, and the next day she got the most excited-sounding phone call from her son, "Guess what? My fish changed colors!" It was blue and purple before and now it was orange and white. Obviously, there weren't any blue and purple fish at the store to replace the fish. So his dad said it was a tropical fish that adapted to its environment.
How much do we want to hold on to our own tropical fish story and give up on the truth?
Give up that tropical fish of control. Give up control and happiness will come from the power in you.
Stay tuned for the next blog post, continuing the recap from the Ellevate Mobilize Women Summit!